I wrote a small Android applet to rotate the view.
RotateView.tar.bz2
Download and unzip it. Then copy RotateView/bin/RotateView.apk to android-root/data/app. When you restart Android, you will find RotateView icon in Applications folder.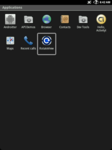 There are four view styles. Just select and click.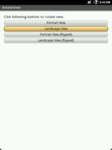 Nice to have Android Zaurus in landscape view.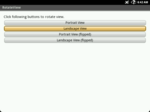 The view style will be effective until rebooting Android.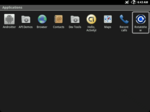 This small applet may come in handy when you are playing with Android Zaurus. It also works in the Android SDK emulator.
You will notice that OpenGL demo applet runs much slower in landscape view than portrait view. Graphic manager rotates images by software.
Technically, this applet is nothing new. As I already reported in
Portrait/Landscape and Keycode
, Davanum found
service call command and IWindowManager has an API
to rotate the view.
I'm just sick of typing in the service call command everytime I boot up my Android Zaurus and decided to write an quick applet.
Have fun.
---
RotateView applet contains a free icon from
iconlet
. I could download a nice icon in no time because of the simple user interface of
iconlet
.