ComicViewer
I introduced
ComicViewer
of
Adamrocker
a while ago. Since then he has updated the applet a couple of times and now the latest is
ComicViewer3
. This is the direct link of his
zipped applet
just in case if you have a bit of trouble to spot it.
Now the aspect ratio of images is more appropriate, so that no need to say pan. Memory leak issues are fixed and still it works comfortablly fast.
Shortcut keys are unified in both modes. Pressing [P] or [N] displays a previous or next image. Cursor keys work as what you expect for. And if your Android system is based on
cortez
or
mine
, the volume switch - up/down switch on the side of Zaurus - works same as paging.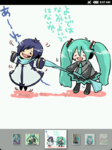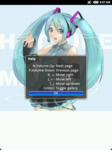 Molib
In OESF Forums, there is
a post
introducing an applet called
Molib
. When I tried it on my Android Zaurus, I was amazed by not only a beautiful Paris satellite map but also the French fonts. It is a fine example of how Android is i18ned.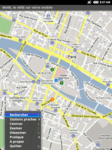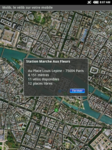 Hotpepper
Another applet comes out from a Japanese company called
EAST Co. Ltd
. The applet is
Hotpepper
, which is mash up of Google Map and a popular restaurant guide called Hotpepper.
The applet searches restaurants near the location on the map and shows restaurant information. It will be very useful if GPS is equipped. Sadly my Android Zaurus can not handle touchscreen correctly yet, I'm stucked at Shinjuku where the applet shows as default.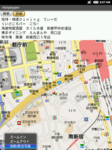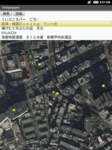 Have fun.