I experimented double buffer and pan in pxafb.c and it works for me. Very first time I saw the new tile menu on my Zaurus.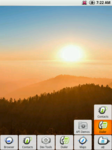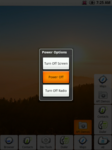 Cursor keys work weird and something very funny with key board. I need to check key codes again to see how to fix it.
Anyway, this is my implementation of double buffer. Any suggestions to make it better are always welcome.
o
pxafb-doublebuffer.patch
I referred this post in a mailing list to get some ideas how to implement a pan function.
o
ARM Kernel -- Re: PXA250, SDL_HWSURFACE and SDL_DOUBLEBUF