The author of
Androitter
- a twitter applet for Android - introduced a new applet.
This time, a
ComicViewer
. He puts Screen Cast on his blog, so that you can see how it works by just clicking the play button in the Flash on
his page
.
Update on Jan 19:
Adamrocker updated his applet. He has fixed some memory leaks. So I revised links to his page. If you have installed ComicViewer v2 to your Android Zaurus, download his package and re-install, please.
The instruction how to try on your Android Zaurus will be;
o Download the
zipped project file
and unpack it.
o Copy comic_viewer2/bin/comic_viewer2.apk to android-root/data/app in your Android Zaurus.
o Pack your favorite JPEG or PNG image files in a zip file. Then copy it to your SD card.
o Set SD card to your Zaurus.
o Boot Android up.
o Go Application Folder and click [ComicViewer v2]
o Find /sdcard and press [Enter] key.
o Find your zipped image file.
Once you find the zip file, press [OK]. The image files in your zip will be displayed. You can browse trhough by pressing left and right cursor.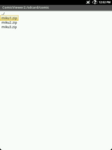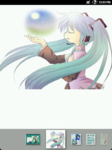 Then press [OK]. Now you are in View mode. [L] or [R] on the keyboard shifts the image left or right. [Up] and [Down] cursor key give you scroll. [Menu] has [Zoom In], [Zoom Out] and [Pan]. [Pan] is usefull because some image might be displayed in wrong aspect ratio.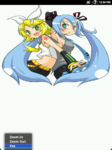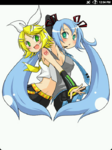 Works in the landscape view as the same.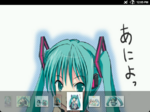 If aspect ratio is messed up, say [Pan].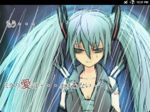 This applet is a fun thing to see. It runs very light. You will be amazed how it works. It's way faster than the dogs in API Demo. But....
WARNING
This applet is under development and you may come across some issues. Please do not get mad if anything unexpected happens. Keep it in your mind we are a test bed. Whatever happens it is caused by what we have done.
I would recommend to try this applet on following restrictions.
o Keep your zipped image file less than a few mega-bytes. Too big, too much.
o Once in a while, your Zaurus may be gone crazy. A lot HDD access and no response. In such a case, leave your Zaurus alone for a while. In ten or thirty minutes (I'm not joking), it will come back with "Activity No Respose" dialog, then say [Force close]. You'll be back in home.
These issues might be related to Dalvik GC and how an applet manages its resources. Further study is required.
Anyway, it's very fun thing to try this applet.
Cheers,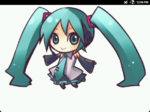 P.S.
I didn't have any collections of image files, so I downloaded some from
Miku Hatsune Tumblr
to write this post.