There are a couple of things to do.
o Touchscreen is unstable.
o Keyboard driver is required. Still some keys can't be typed in, such as slash(/).
Adding to these I found more recently.
o Sound. No sound yet.
o SD Card
I tried this sample applet
MusicDroid - Audio Player Part I | Hello Android
a few days ago and found Android applets can't access to /sdcard.
I went back to the Android SDK emulator and booted it up with SD Card support.
$ ./mksdcard 16M sd.img
$ ./emulator -sdcard sd.img &
$ ./adb shell ls /sdcard
drwxrwxrwx root root 2008-01-11 07:02 android
drwxrwxrwx root root 2008-01-11 08:33 download

# ./adb shell ls /sdcard/android/
-rwxrwxrwx root root 17408 2008-01-14 06:54 media.db

$ ./adb shell
# cd /sdcard/android
# sqlite3 media.db
sqlite> .tables
albums audio_genres_map images
artists audio_meta thumbnails
audio audio_playlists video
audio_genres audio_playlists_map
Then tried on my Android Zaurus and get exactly the same results. So the Android system knows how to access /sdcard. But applets don't. It's really weird.
Second new issue is sound. I never heard any sound from my Android Zaurus. Today I tried this movie player applet
Android - Video/Music player sample
with a quick hack. Because I can't type some characters on my Zaurus, I set default URI in the source code.
mPath.setText("http://daily3gp.com/vids/747.3gp");
After building apk, I copied to to my Android Zaurus.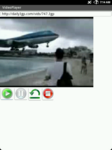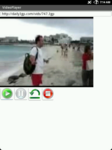 It worked but no sound. Well, bright side is 3GP decoding works efficiently enough on Zaurus 400MHz XScale.
A lot things to do.