Android SDK comes with a couple of sample applets. One of those is a classic game - Lunar Lander. I played with it, well literally.
To build the applet, open up Eclipse and creat a new project based on samples/LunarLander. After confirm the applet with debugger, I copied LunarLander.apk to android-root/data/app.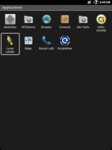 It works fine as expected. I'm not good at this kind of games. I played it a couple of times but never landed successfully.